My bike, Bike Suppliers, Bike Links, Bike Clubs and Groups, the odd (I mean ODD) How-To, and whatever else is BIKE!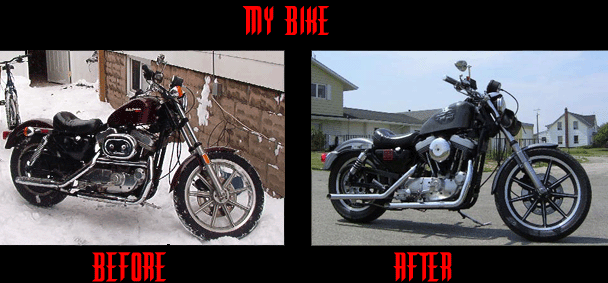 My little Beast Bike. When I got it it was bone stock, except for a blue dot in the tailight. Lucky me, an older bike all ready for CraZee's evil plans. First off lowered it with Drag Specialties short shocks. Put on new drag bars. Changed the levers, grips, pegs & signals housings to chrome. It had no choke knob so I bought a skull one aftermarket and threaded the existing rod to fit. The usual little maintenace things, a new battery, got it running then left it alone for the summer
Last Winter I changed to a smaller hi-flow air cleaner, glad to pitch the old stock square one (with the goofy stock signals) in the spare parts box. I save em all to make another bike one day......The stock pipes had to go too. So on went some nice drag pipes, obnoxiously loud and I love 'em. Makes playing "Stay beside the Yuppie on their cell phone" very enjoyable.
While I had it apart I got the bodywork done then my buddy shot the base coat. I airbrushed the tank, then he cleared it. Since then I've redone it, same metallic grey with a different paint scheme.
Click HERE to see it.
It's fun to be your own painter, money's no object. If you'd like to see more of my art my airbrushing site is here. If you'd like something painted fire me off an email!
Well finally-the first in my series of How-To's for people without a big budget or a big fancy shop-that'd be most of us! The stock signals are big ugly things, so I decided to change 'em and bought some nice little bullet ones. As you can see from the pics it's a cheap easy thing that really improves the look of your bike. I thought they'd just bolt on-WRONG! No big deal. Here's one way to mount the rear signals.
It's easiest to work with the fender off the bike. While you have it off it also pays to inspect and replace any wires if you see frays or loose connections. It's not that hard, the manual helps and if you replace one wire at a time you can't really mess it up. I labeled the breaker box connections with tape so reassembly was easy. Moving the signals back like I did requires longer wires than stock anyways.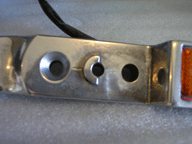 First off once you remove the big goofy factory ones you will have ugly holes and a raised area on the strut that they were mounted to.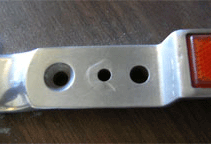 I took my Wizard (a Dremel tool) and used a cutting disk to take these down to almost flat, then buffed the rest so it was flush. You can now use a chrome plug (Home Depot has them) for the hole, an acorn nut, a big ol spike or whatever you like.
I chose to relocate the signals back to the last hole (circled) in the strut. This requires boring out the hole with a drill bit so the signal sits flush in the strut. The strut is only aluminum, so this is easy with a drill.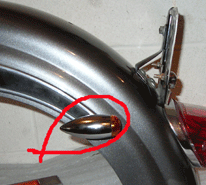 The new signals will come with a hollow bolt to run the wiring thru, simply splice the wires into an extra piece then attach this to your existing wiring (which will stop where your old signals were), or run one long replacement piece. Tighten the bolt-now it is holding the strut and signal on.
When I have time I'll post the front ones and the rest of the wiring details.....
| | |
| --- | --- |
| Online Biker Resources/Groups | |
| | |
| --- | --- |
| Red Devils MC | Canada's oldest (and Hamilton's OWN!)1% MC has gone online-check it out! |
| Hells Angels MC Ontario | The site is down right now but I'll leave it up in the hopes they get back up and running. Here you can read their "Real Deal" news, support biker's rights, and hear a thoughtful interview with Donny Peterson. Huge site with too much to list so just go see for yourself! |
| Biker's From Ontario | MSN group. Includes a chatroom, current events and classifieds. Also a forum to post to fellow members. |
| The Riders Mag | Excellent magazine devoted to anything of interest to bikers. Great web site too. "Know your Cops" and some great event coverage among other features. Support these guys, they do a bang up job and the mag is FREE! |