CraZee'z Newz
---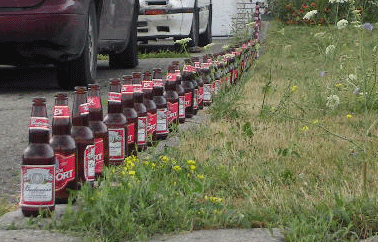 Hey itz Summer...what can I say?
Been too busy riding and having fun to follow the news, if ya have any send it on, I'll sit down one rainy day and update the site!
Suck Bang Blow has come to Canada. The owner of the popular "ride in" bars in the Southern States has recently taken over the old Redwood Inn aka Stogeys (Hwy #20 and Tapleytown Road) and is working away at redecorating the "Biker Friendly" bar. The Wednesday bike night is getting bigger all the time, with some great local bands providing the entertainment (and the odd drunk chick flashing of course). Tammy is working hard at making Bike night bigger and better every week, Cheers to you TamTam...my fellow Rider in the Storm!
---
Old News
Hells Angels suing Disney
The motorcycle club filed suit with the US District Court in California last Wednesday (March 8) for infringement of the group's trademark in the production of the upcoming film 'Wild Hogs,' currently in production.
The Angels say they were never given a script for the film to approve the use of their name and insignia, a skull wearing a helmet with horns and feathers. The group also claims that the studio repeatedly used its name and logo in publicity material for the film.
Disney spokesperson David Caouette said that the Hells Angels claims are without merit. (well of course he would!)
'Wild Hogs' is about a group of middle-aged biker wannabes who stumble across a chapter of the real Hells Angels. Set to star in the movie are John Travolta, 'Home Improvement' star Tim Allen and Martin Lawrence.
---
Disney is notorious for suing any and all they feel infringe on their copyright. The film is not out, I haven't seen it for myself, but if they have used the Angels colors in any way they have every right to file suit. Disney is a wolf in fluffy sheeps clothing and has proven it time and time again. I'm sure they'd love everyone to believe that big mean Amgels are picking on them in this case but if they lose they are only getting what they have given. So go Angels!
If anyone wants to fill me in on any newsworthy events go ahead and email me the story. This includes benefits for downed riders, upcoming swap meets, cases of police harassment etc
For much more check BIKERNEWS.NET below, great site!
Gas prices hit the roof again, then went down some....now they are down from totally disgusting to just plain rude and we are supposed to think that's OK. Oh thanks Gas Gods...I've been protesting in a mild, legal form....DO NOT buy anything but your gas at a station. Why not fill up on the Res? It's .20 cents cheaper!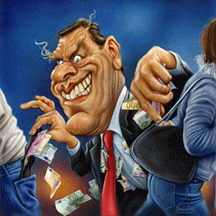 I'm leaving this pic up for good!
The "Federalis".....biggest criminal organization in the country. BEU? WE need a freakin' PEU for the politicians! I'd trust my cash with the bikers I know before those creeps ANY DAY! CROOKS!
AND.......RED DEVILS MC, Canada's oldest 1% MC, are online with a Club site. There are also pics and you can find out about any open-to-the-public events they are holding. A big Cheers on the site from ComBat guys! Their 2008 Show 'n' Shine raised over $5,000 for the CNIB so Cheers to them for that too!